Our Pastor
Reverend Kit Billings, M.Div, MA, BCC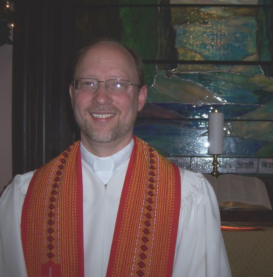 Hello, and welcome to our church!  The La Porte New Church has a wonderful history here in northwest Indiana. We were one of the first churches built in town, established in 1859, and my family and I are blessed to be here. We love the families in our church home, and we love the beliefs and values our church honors and celebrates.
Ours is an open-minded, discerning and progressive way of life. The essence of genuine Christian faith, as Christ said it Himself, is to "'Love the Lord your God with all your heart and with all your soul and with all your mind.' 38This is the first and greatest Commandment. 39 And the second is like it: 'Love your neighbor as yourself.' 40All the Law and the Prophets hang on these two Commandments." (Mtt. 22:37-40)  It is up to us to choose to consciously do this in our relationships, at work, and in our community.
The conclusion of the Bible story involves John's vision about Heaven coming down and joining with life here in our natural world. The descending Holy City New Jerusalem represents this vision about God's goodness and truth coming alive and shining within people's lives in personal and meaningful ways. And it's a vision showing humanity living together in peace, shining in God's glory and wisdom, living on streets of "gold," which are paved with love and compassion. But we also must not forget the prior books, stories and journeys within the Old and New Testaments, which reveal that even when things may feel and appear at their worst, when stress and pressure mounts, the Lord is at His best!  God remained true to the Israelites, even when people gave up on the Divine and their Covenant with God. Eventually God came here among us, manifest in the person of Christ. All of the many struggles that Jesus went through (both inwardly and outwardly), and His continual victories over them, tell us that the Lord in His Divine-Humanity is fully present with us now to give us the love, truth and strength we need to overcome too. "The Lord is close to the brokenhearted and saves those who are crushed in spirit." (Ps. 34:18)
Seeing God's Word in this deeper way reveals the truth that real wisdom and spiritual character come gradually inside of us over many years.  As we grow through learning God's ways and Commandments (applying them in the midst of our spiritual battles), choosing to cooperate with the Lord in overcoming our own selfish tendencies and weaknesses, we discover trust in Divine power more than our own. The Bible story is a reflection of a lifetime of spiritual growth (or regeneration). The building of heavenly character in our partnership with the Lord is what lasting salvation is about, which reveals what real wisdom is–that is, we are not really wise until we have come to love doing what is right, even in the middle of spiritual struggles. This also gives us an ability to understand and sympathize with the good desires of other people.
I am also a student of psychology, by the way, and I find significant help for us in our journeys of learning, growth, healing and transformation by being open to truth in all its dimensions.
If you are hungering to continue your own spiritual journey within a safe, loving and Christian-centered community, then I encourage you to come and say hello. You are welcome to visit with me at your convenience, or stop by on a Sunday morning for worship at 10:00 AM. I know it's a process to discover one's spiritual home, and your journey is honored here. We also have an adult Bible study just prior to worship, which starts at 9:00 AM, if you're interested.
Conversation with our Pastor
Healing Through Grief Pastoral Support (for adults)
Currently our pastor offers either one-on-one or couples or small group grief support by request.
I look forward to meeting you some time soon.
With blessings and peace,
Rev. Kit
Copyright ©2021 LaPorte New Church. All Rights Reserved.