Our Pastor
Reverend Kit Billings, M.Div, MA, BCC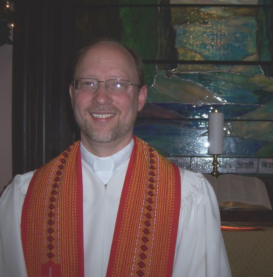 Hello, and thanks for checking out our church's website and ministry with me, Rev. Kit, at the helm—a hopeful, caring and discerning servant of God. I invite you to read and reflect upon all you find on our website, as you may be seeking a closer relationship with the Lord. This New Church ministry is open to all, with no bias, as we understand that there are many paths to God, the God who asks that we love one another as He has loved us.
There were years in my adulthood when I was the person seeking to find a church that "fit." So, I consider your search very important…sacred actually.
Let me start out high up from a bird's-eye view and then zero in more closely about my own life story and about our ministry here within our church.
Childhood
I was born in Boston, Massachusetts in 1967 to a family of six total, including my mother, father, older brother, sister, and twin brother. At age five my family moved to the Bay Area of California, where my dad began his first pastorate after seminary. My childhood was a blend of good, great and difficult times. But through it all my life was touched by God's love in so many creative ways. As a boy I did not really know God personally, but I felt the Divine's presence in nature—in the songs birds sing, in the sweetly loving gaze of my dog, in the wonders of life, in Spring and Summer and Fall…and whenever love, compassion and humble understanding came into my relationships in life.
As a boy, I loved having fun doing a wide variety of family and fun outdoor activities. I also enjoyed learning, so school for me, in general, was an adventure. I was always a gentle soul, so while I battled goodness vs. selfishness as we all do, I can say that deep down I knew that we are here to love and serve one another with compassion. I detested meanness and cruelty, but I understood that heavenly and hellish aspects of life exist. I had my first mystical encounter with God in the 3rd grade during recess. It was a blustery, rainy day but I felt God's Spirit within the fresh wind blessing me deeply. As a child, I did not realize I had met God that day, but as an adult, those memories came back to me, and then it was clear that God was there making Himself known to me.
As my mind developed through childhood, I became interested in science and psychology, trying to figure out what makes us "tick," and learning about how both functional (or good) and dysfunctional (or hurtful) aspects of family tend to be passed along from one generation to the next. By age 16, after learning a fair amount about human physiology, Earth science, mathematics, world history, and the arts, a very deep question formed in my mind: what is love, and does it last forever or not?
One night while in spiritual crisis I was reaching out to God passionately, asking Him to show me who and what He was or is. And then, He did! Over the next three days, I felt and saw God in my heart and mind as a gloriously bright and shining sun inside of me. Thus, I felt how constantly the Lord loves each of us and how His light of truth beams out everywhere, helping us to think and reason and understand things both naturally and spiritually. I began reading about the Lord's New Christianity, written within the pages of Emanuel Swedenborg's books. I looked into other traditions and religions, but the one that spoke to me personally was the New Church—in large part because it was rational, meaningful, open to questions, both deeply Christian and universal, and it is very friendly toward a dialogue between science and religion. It became the right 'fit' for me and the spiritual environment I call "home."
Within this theology these words in Scripture came alive for me: "The steadfast love of the LORD never ceases; his mercies never come to an end; they are new every morning; great is your faithfulness." (Lam. 3:22-23) My journey has long been a search for spirituality, psychology and science to work together like three chords in one strand, working cooperatively.
Family
In 2003, I met my wife, Penny, which brought love alive in me in a whole new way when I looked into her eyes. Then our daughter, Julia, was born, and I saw and felt love again, blossoming anew! Marriage and fatherhood teach me about the importance of sacrifice and doing good, above my self-interests in life; they also remind me of the importance of togetherness and play.
My journey has led me into both congregational and chaplaincy forms of ministry, but all with one vision: helping God to bless, heal and inspire us to open up and feel the Lord's warm Spirit within our own and to grow ever more into our higher self and potential.
For me, this boils down to turning away from selfishness, evil and false ways of thinking, in favor of the Lord's lasting joys and goodness joined with truth and forming into wisdom, grounded in usefulness everywhere. As a husband, father and pastor, life is full and life is good.
In this church, we welcome you to discover your own wellspring of God's life and abundance, as we partner with the Lord through ongoing spiritual growth and emergence. I know that I have a long way to go towards developing into my Higher Self, and I'm so glad that the Lord is infinitely wise and patient with me, with us all.
Worship
I invite you to join along with us, whatever your background, as we "seek first the kingdom of God and His virtue, and all these things will be added to you." (Mtt. 6:33)
If you are hungering to continue your own spiritual journey within a safe, loving and Christian-centered community, then I encourage you to come and say hello. You are welcome to visit with me at your convenience or stop by on a Sunday morning for worship at 10:00 AM. I know it's a process to discover one's spiritual home, and your journey is honored here.
With Blessings of peace, hope and love…forever!
Rev. Kit
Copyright ©2021 LaPorte New Church. All Rights Reserved.