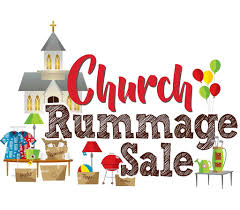 LaPorte New Church, corner of Indiana and Maple Aves. by the Public Library, will hold its annual fall rummage sale both on the sidewalk and at Manna House, Saturday, September 21, from 8:30-2:30. All items are clean, great quality, and priced very reasonably, both as a benefit to the church and to the community. Proceeds from this charitable sale will help fund the maintenance of the beautiful historic church building and Manna House, built in 1859 and 1890, respectively. The church will be open for visitors.
Please come, you'll find lovely clothing of all kinds and jewelry, kitchen and household items, sets of brand new dishes, bicycles, books, toys, collectibles, small furniture, and lots more.
Sunday services are at 10:00 with social time following. Guests are always welcome. For more information,www.laportenewchurch.org or call or text Rev. Kit Billings, 219-380-4682.